Happy Halloween everyone!

Oh how much fun my first ever Halloween was! I got right into the spirit, with a cute outfit in oranges and browns, skeleton earrings, carving my first pumpkin, Jay made me chocolate chip cookies and handing out candy to all the cute little trick or treaters of the neighbourhood. So far it has been the best day of my trip.

We went out this morning to run some errands and had lunch at a great deli called Abe's at Littleton. Fabulous sandwiches there, if you're ever in Colorado, find it!

We had to buy new pumpkins to carve because some LOVELY person stole the ones off Aly and Jay's front porch! We are 99% sure it was the neighbour across the street, I was all geared up to go and steal them back at 1am (after all, they don't know me and I'm leaving on Friday!) but they took them inside!! Can you believe it?

Anyway, we went to Safeway and Jay and I picked out a couple of pumpkins. I got a big tall one with a really good side for carving a face into.

Came home to Aly and Jay's place and Jay made me his rather fabulous (and reputedly famous) chocolate chip cookies. YUM-O.

Then it was time to carve my first pumpkin. Here's a photo of me just as I removed the top off it:




What can I say about removing the goop from inside though? DISGUSTING. Seriously, I was gagging and retching, and Aly had to remove the bulk of it. Here she is almost up to the elbow in my pumpkin: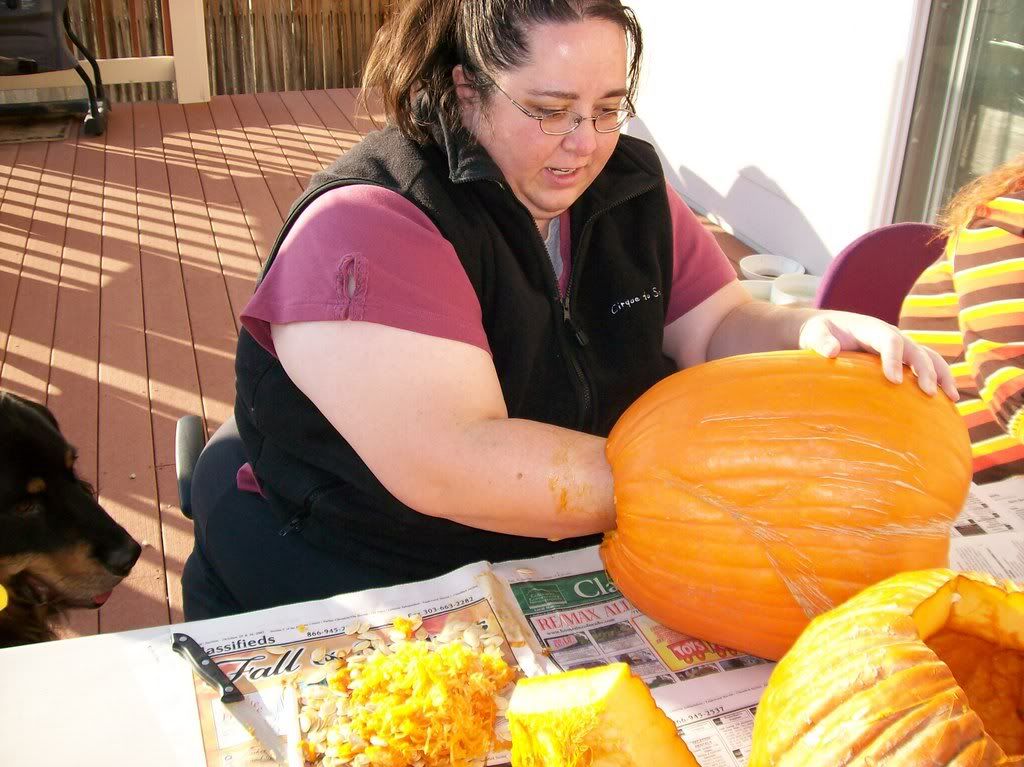 It was a combination of the smell (rotting vegetation) and the feel of it (slimy and mushy) in my hands. I am SO not a wuss when it comes to gross things, remember, ex-Nanny here, I've had my hands in all kinds of poop and puke, pulled calves out of cows, all kinds of grossness. But that was possibly the most disgusting thing I have encountered! Jay took a photo of my face at the time, but it's so hideous I'm not going to post it!

I did have a great time carving though and did a fairly good job for a first timer. This is me working on my design:




And here is the finished product (mine is on the right):




And finally, a spooky photo of it all lit up with a candle inside: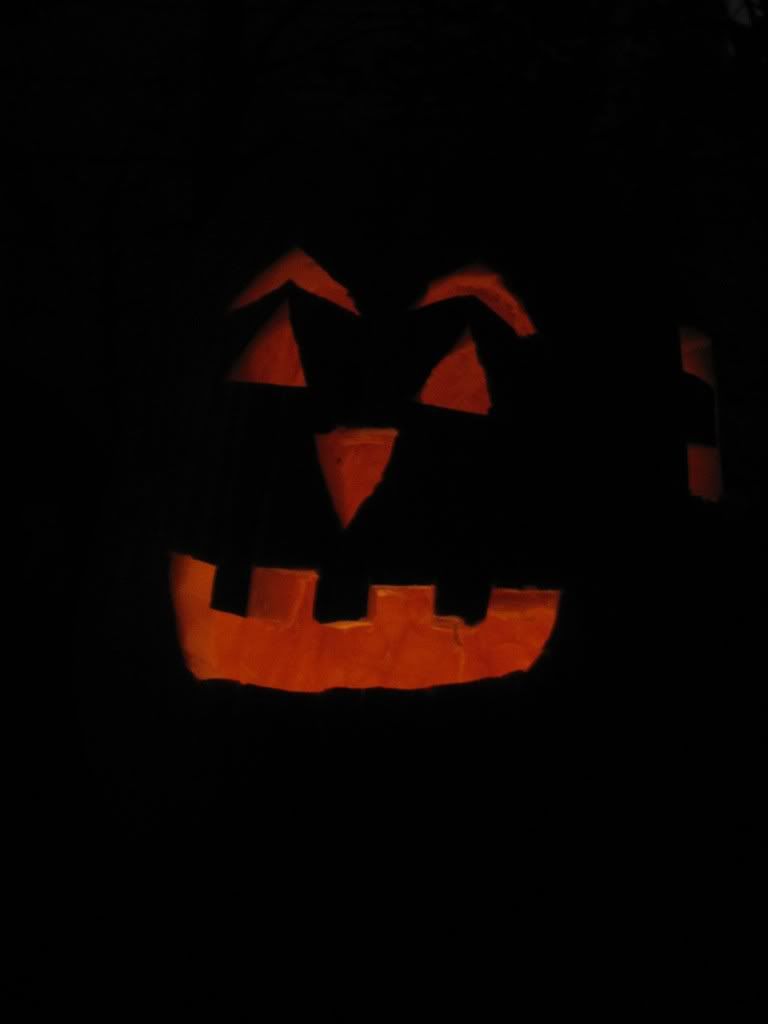 The trick or treaters started about 6pm, and they were really, really cute. Most of them were under 10 years old and you should have heard us making awwww noises at the little princesses, devils, soldiers, star wars characters, ghosts and such. Aly and Jay let me give the candy out when they came to the door, and they were so cute and polite too. There was one little girl who must have been about 2 and a half with her Mum, and I turned to complete mush! Plust two little boys of about 4 and 2 that were so cute, I wish I'd have taken photos.

All in all I had a fantastic time and would be more than happy to see the REAL Halloween come to Australia. I would love to carve pumpkins and go trick or treating with my kids in the future, that would be such fun.