Spent today exploring downtown Madison, WI. What a pretty, picturesque city. It's a huge University town (University of Wisconsin) and the whole town is really built around UW. The other chunk of town is built around the magnificent and impressive State Capitol building.

We arrived this morning in the downtown area and wandered down State Street to have a look at the shops. A lovely area, lots of funky and fun shops, plus eateries, cafes and restaurants, most of them at the cheap and cheerful end of the spectrum. Cindy and I met up with Amy at 11am and then we went to lunch at a great little restaurant called the Sun Room Cafe. Had a simple chicken salad roll and an apple cider and it was cheap and delicious. Then we went for a walk up Bascom Hill where I played with a squirrel that was on the lawn (it posed prettily for me to take some photos) and we had a look at Bascom Hall.



My Squirrel Friend



Me and Abe Lincoln in front of Bascom Hall.



State Street

Walked down to Lake Mendota to walk along the waterfront (and so I could engage with the seagulls) before saying goodbye to Amy for the day. Then Cindy and I went up to the Capitol building to do a free tour. Exquisitely beautiful building inside and out, lots of marble, granite and beautifully carved wood, gilt trims and murals, and very rich history too. If any of you get to Madison, do the tour, it's fascinating.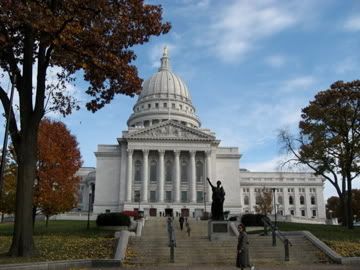 Wisconsin Capitol Building

We then went to go to the Veterans and Historical museums, but they were closed for Veteran's day, so instead we went to Babcock Hall for ice-cream. Yum!

Shortly we're off to dinner with a friend of Cindy's who is originally from Scotland.