Hello from sunny Florida. Like Queensland, it's the Sunshine State, and it's definitely living up to it's name at the moment. It's December, winter... and today was about 28C! Bizarre! I actually didn't bring any warm weather clothes with me, so I had to go to Wally World and invest in some cheap shorts. That's cheap shorts, not cheap shots. I already have plenty of those.

Yesterday was great fun. Mum Barb and Poppa Bob took me out to Fort De Soto, which is on the Gulf of Mexico coast a little south of Tampa. We started with breakfast at the Atlanta Bread Company (good bagels and coffee) on the way out, then stopped off at one of the spots Poppa Bob was looking for one of his geocaches. He spends a lot of time doing that, he should be able to map this area blindfolded!

We arrived at Fort De Soto and had a look around the fort. It's been there since before the Civil War, and has a long and colourful military history. Sadly it didn't lend itself to photographing at all, but the views from the top of it... wow!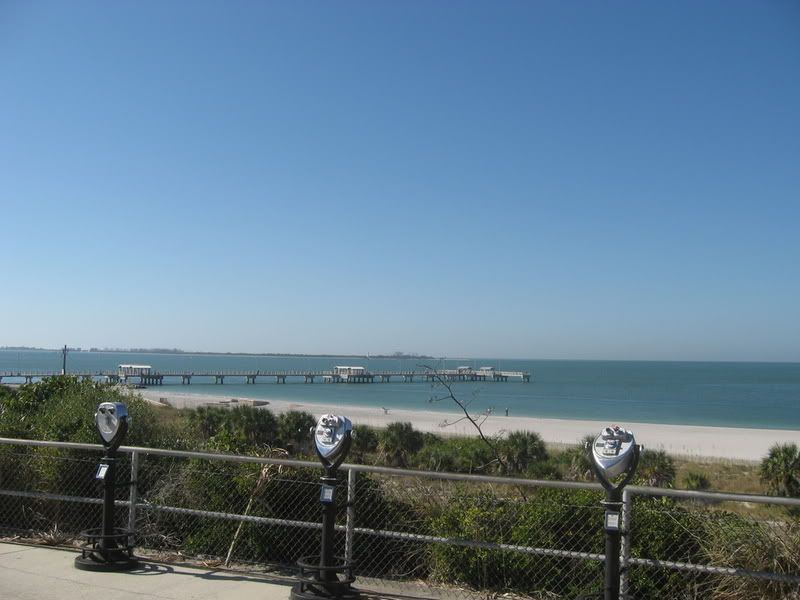 On down to the pier for what we really came for... FISHING!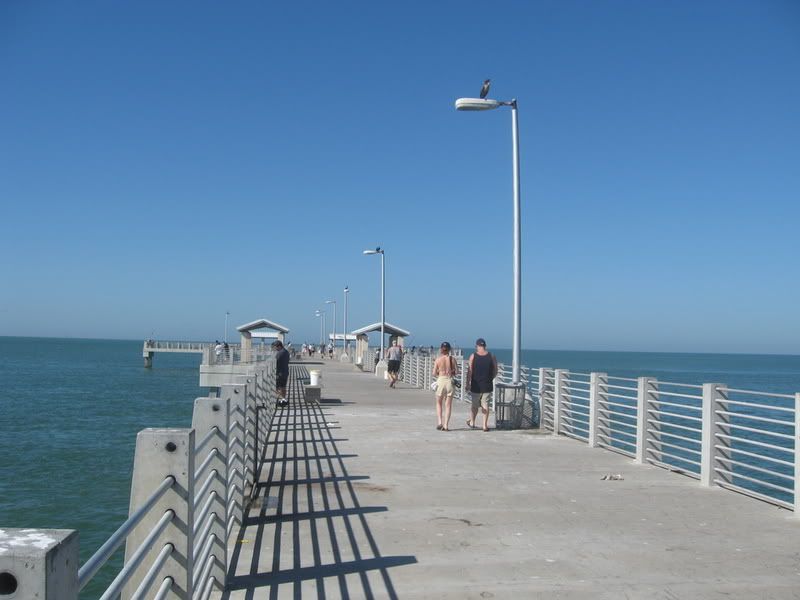 Now I love to fish, but I am notorious for never catching anything. So I wasn't at all surprised to see people around me catching, but all I was doing was drowning prawns. Barb landed something well before me, even if it was a little one: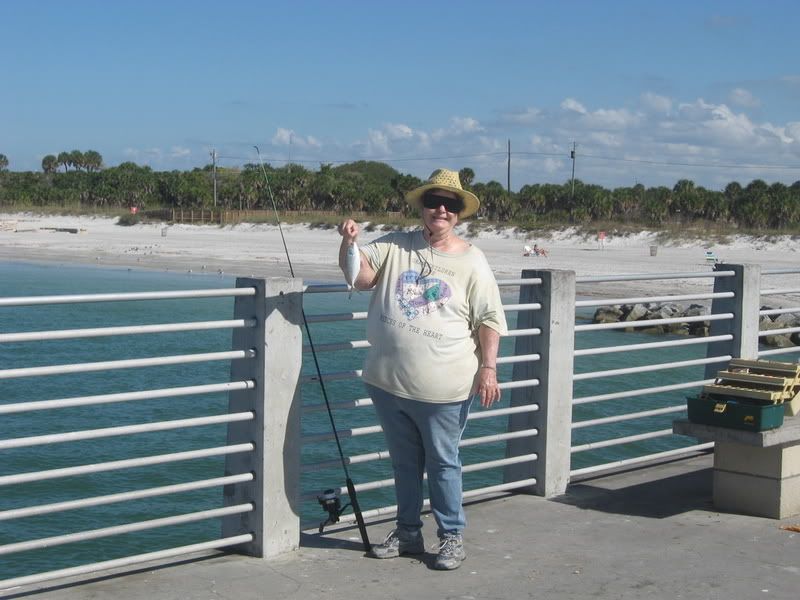 I believe this is called a Pin Fish.

After awhile, Bob said that the people at the end of the pier were all doing well catching Lady fish, as there were a lot of bait fish under the pier. So he changed my rig and we moved down there.

First line he cast out for me (I couldn't work out how to cast his fishing rod) I was whizzing back in and BANG! Something on the end of it. And something big!! Got it all the way up to the pier, hauled it up the side and the damn thing slapped the side of the pier as I was trying to get it over the railing and dropped off back into the water! A Lady fish, at least 18 inches long! BAHHHHH!!!

Bob saw it. He agrees it was a big one. He'll sign a statutory declaration to prove it if you don't believe me!

Soon after that, Barb landed a nice little trout. Not big enough to keep but it was a pretty fish. Only thing is we're not sure it survived being caught, it swallowed the hook and took us ages to get it out to throw it back: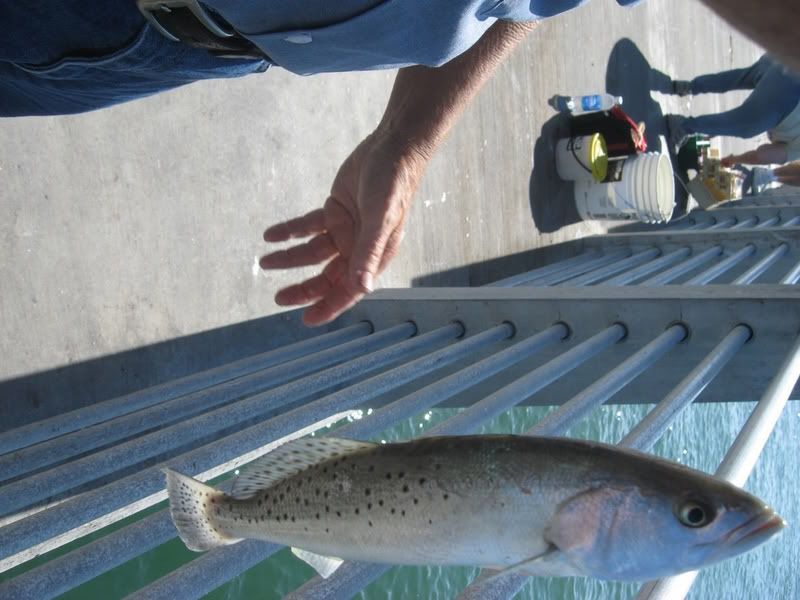 Ages went by and Barb landed a couple more pin fish, when I got Bob to change my rig back to prawn bait and tried again, and finally it happened... I landed myself moby dick...




Massive, isn't he? Of course, I thought he was a bit big for me to gut and fillet, didn't have a knife big enough, so I tossed him back.

A little later, I picked up his big brother...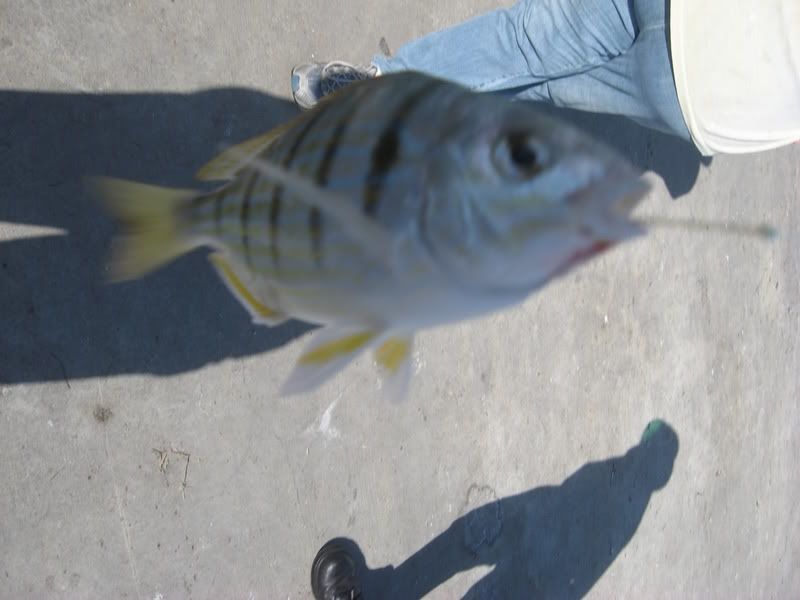 That was enough fishing for us. Actually more than anything I was getting a tad sunburnt, so it was time to move on. We went for a late lunch at Bob Evans Steakhouse (pot roast sandwich with fries and coleslaw - really tasty) and then a bit of shopping at WallyWorld, before heading home and collapsing.

I had such a great day yesterday, mostly I just enjoyed being around Mum Barb and Poppa Bob, letting them fuss over me and parent me! It's not something I'm used to and it was lovely. I think they had as much fun as me hooting and hollering when I caught something, and Bob spent ages showing me how to cast on his fishing rod and tying new rigs for me. Such fun!