Be sure to wear, some flowers in your hair... I did!

Ok, they were plastic ones on a barette, but come on, I did it!

San Francisco is an AMAZING city. So much to see and do, and so much that is absolutely iconic, you just can't do it all in a mere two and a bit days like I had there. But I gave it my best shot, and aided by my friend Jacquelline, with her flatmate David as our tour guide (he's awesome, the guy is so patient and has a seemingly boundless amount of knowledge of San Francisco!) I got to see quite a bit!

Chinatown of course was first on the list.




We started with Dim Sum (Yum Cha for you Aussies) at a little hole in the wall place. Good food and mega cheap. Then we hit the shops. And you know how I can shop people! Everything is so cheap and there is so much of it. And yes, I bought shoes. Hey, before you start laughing, I made it through six weeks in the US before I bought shoes!!

After shopping ourselves into weariness and needing a restroom, David took us to the Buddha Bar, which is apparently a rather trendy hangout for the intellectual types. They let me in anyway...




On to Lombard Street, the crookedest street in the world. It's also insanely steep. All around that area is used for locations for all those San Francisco movies you see with car chases hurtling over hills and cars getting airborne. Lombard Street is insanely crooked:




And also you can see just how hilly it is, this photo was taken as we drove down the crooked bit:




Jacquelline was amazing driving up those hills and down the crooked bits. Hurrah hon!

We then drove out to Golden Gate Park to see THE bridge. We had a rainy, foggy day, but hey, that's San Francisco for you. It gave awesome views of the bridge rising out of the fog: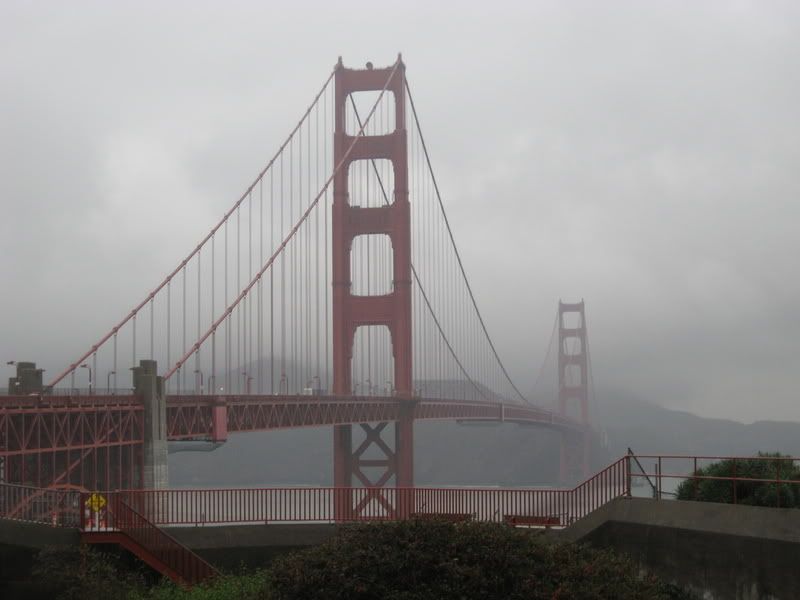 We finished our first day of travels by heading to a Tex Mex chain called Chevy's for the biggest margaritas I had ever experienced, along with good prawn and crab enchiladas and a big gooey dessert that I've forgotten the name of!